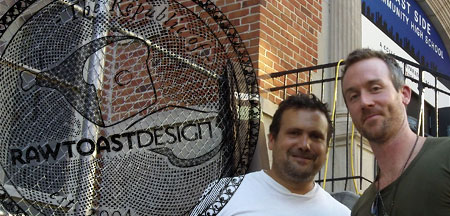 Thank you so much to everyone who has supported East Side Community High School this week. Thank you from the bottom of my heart. The response to this was rather overwhelming. I've received so many wonderful emails and positive responses to this effort. I can assure you that Mark and everyone else over at East Side High is eternally grateful and sends you their thanks as well.
As of right now I have a little over 400 prints to sign and ship out! And many many others also voted, but declined the offer. I'll get these all shipped off as soon as possible, but it will probably be two to three weeks before I'm able to do so. If you are in the Chicago area and would like to pick yours up at the
Renegade Craft Fair
(booth 210) I'll be attending September 11 + 12 you are more than welcome to do so.
Unfortunately this Kohl's Cares challenge looks like it will largely (maybe entirely) go to private schools that already have substantial budgets, huge endowments, and donors in place. And were able to market themselves the best (via free iPad incentives, helicopter rides, and paid advertising) with those budgets and not the schools that really could have benefited so profoundly with this money. This school can't even afford new computers for themselves let alone give them away in exchange for votes like many of the leading schools are doing. A most unfortunate scenario and major oversight on Kohl's "strategic planning" for this campaign.
A really nice write up in the East Villager just came out and can be read here. It gives a great background on East Side Community High and all the noble issues that they stand for. I highly recommend checking it out. ESCH is a pretty special place.
http://www.thevillager.com/villager_384/principalintent.html
I feel very fortunate to have discovered East Side Community High the way that I did. No matter what the outcome is, I'm proud to be able to say I was involved with their mission and extremely grateful to know that I'm connected to so many wonderful supporters. I've been very fortunate as an artist and a business owner the past few years. It only seemed right to start paying that forward when this little "happy interruption" entered my life, and I look forward to continuing to support ESCH in the future.
I wish you all the greatest, and continued success in your lives, and hope that you are able to find ways to do this in your communities too.
And it ain't over til it's over! So if you haven't done so, please go vote and tell everyone you know! You have until midnight to show your support.
http://bit.ly/cKkdkW
Be well and all good things to all of you!
Best,
Jesse
Emperor, Lover, Picture Maker
The Republic of Rawtoastdesign
http://www.rawtoastdesign.com
http://rawtoastdesign.blogspot.com